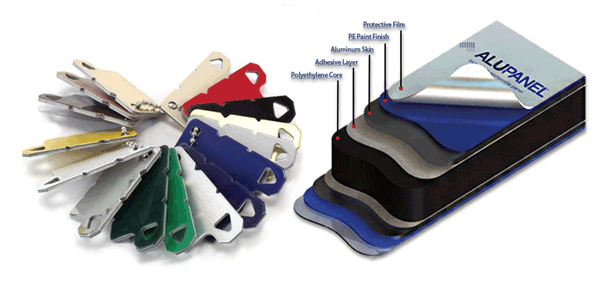 Better than Dibond!
Manufactured by UK-based MultiPanel, AluPanel is an Aluminum Composite Material manufactured with two .012" aluminum faces sandwiching a solid polyethylene core. (Compare to Dibond) The result is a lightweight, rigid signboard-- and we think it's the best one available!

Tough polyester paint finish -- ONE SIDE GLOSS and ONE SIDE MATTE!
Extensive range of finishes including metallics and mirror finishes
Both sides are masked for protection from handling damage
12 Standard colors including brushed aluminium--- IN STOCK at NEPCO for Truck Delivery
5 year product warranty!
Full range of Pantone color available as special order (minimums apply)
High impact resistance. Exceptional dimensional stability at extreme temperatures
Excellent UV and corrosion resistance
NEPCO is a premiere distributor of MultiPanel products-- more in stock for next day truck delivery


2009 UL Sign Component Listing

Download the Fabrication Guide
UL Sign Components Manuals
Dibond is a registered trademark of Alcan Composites.